Often customers ask us for a "Class 10 cleanroom glove." The truth. It doesn't exist. Class 10 is an air cleanliness standard, and your gloves contact much more than air. While knowing your cleanroom classification may seem like a good starting point for cleanroom glove selection, a better approach is to match the requirements of your application with the glove that meets these requirements.
---
[Part 2 in our Cleanroom Glove fundamentals series]
---
Table of Contents
What are your internal cleanliness specifications?

No two cleanrooms are the same, even if they are both certified as Class 10. Every controlled environment has unique needs that need to be addressed with a selection process based on the fundamentals. One of the fundamentals is your cleanliness requirements. The other is operator comfort, which you can read about here.
Specifications for cleanliness should identify:

Process or application

Acceptable upper and lower limits of particles and extractables

Chemicals used in the cleanroom, and if the glove will have contact with the chemicals

Electrostatic discharge (ESD) sensitivity

Length of wear

Coverage (length of cuff)

After you identify these specifications for cleanliness, you can begin the comparison of cleanroom gloves to find the one that meets your specification.
Cleanroom glove substrates: How clean are PVC, latex, and nitrile?
Typically, cleanroom gloves are made from three different types of substrate or raw material formulations: PVC, Latex, and Nitrile. Each substrate has unique dexterity, electrostatic discharge, durability, levels of particles and extractables, chemical compatibility and consistency characteristics.
Here's a high-level breakdown of each of the characteristics: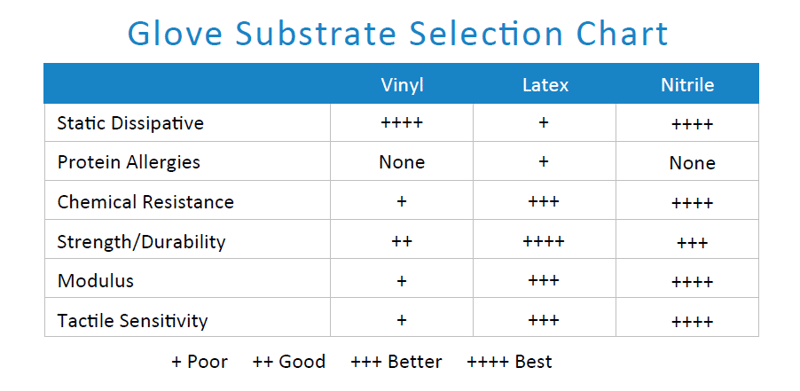 Trust but verify.
Once you have narrowed down the selection based on these characteristics, the next step is to ask for product quality test data from the manufacturer and verify with your independent testing. If you don't have the test equipment to verify performance, Valutek offers independent testing, even on other manufacturers' products. We also provide a 36-month trending analysis on particles and extractables for our gloves to give you even more peace of mind that your glove stays consistent with published specs.
Valutek will make the appropriate glove recommendation based on the needs of your specific application.
Learn more about Valutek Cleanliness Classification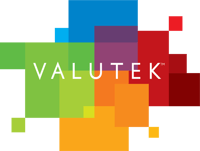 Valutek is one of the first and few manufacturers to offer a full product portfolio of best-in-class cleanroom products. Since 1988, our controlled environment consumables are helping leading organizations operate their cleanrooms in a consistently stable state.
Related Articles
Your cleanroom gloves help to keep your controlled environment free of contaminants. Right?
How...