For most cleaning processes, the cleaning staff or operator applies a cleaning solution to a dry wiper to clean surfaces. The chemical solution most often contains isopropyl alcohol (IPA) and DI water which the operator has to mix at specific percentages. In this scenario, there are a lot of things that can go wrong, leading to reduced cleaning efficacy.

---
[Part 3 in our Cleanroom Wiper Selection Fundamentals Series]
---
Pre-saturated Wipers Might Be More Effective for Your Controlled Environment.
Operators and cleaning staff may not always mix the solution using the correct ratios, they may apply it to the wiper inconsistently, and the facility must deal with the burden of storing a hazardous, flammable liquid.
An easier, safer, more consistent, and cost-effective solution is to buy the wipers pre-saturated with a cleaning solution that was precisely mixed and vacuum-packed to ensure even saturation across all surface areas.
Convenient And Customized Solutions
Based on your standard operating procedures for the cleaning process, Valutek can create a customized cleaning solution. You can choose from any substrate and chemistry solutions: IPA, methanol, ethanol, and ethyl acetate.
Valutek will mix the chemical solution based on your concentration specification and ensure uniform substrate saturation. With other manufacturer solutions, you are stuck with a chemical solution and concentration of 70% IPA and 30% DI water.
Specially Designed Packaging For Extended Dispenser Shelf Life And Ease Of Use
The downside to using other manufacturers' pre-saturated wipers is the common "peel and reseal" pouch. The adhesive seal often stops working after many uses, and wipers typically dry out before being fully consumed.
Pouches are also difficult for operators to use. To solve these challenges, Valutek designed a rigid, reusable, and resealable pail with a unique latching lid to extend shelf life and make dispensing pre-saturated wipers easier for the operator.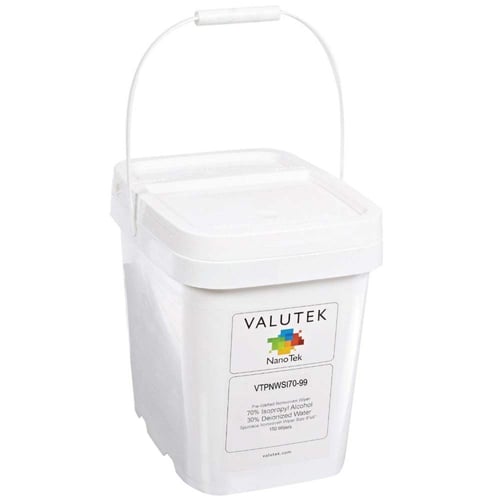 A Win-Win For Procurement, Cleaning Staff, Operators, And Facility Managers
No matter what role you play in keeping your controlled environment free of contaminants, Valutek pre-saturated wipers are a winning solution.
You can reduce the purchase, storage, and use of flammable liquids, and eliminate the mixing and application process, resulting in consistent chemical concentrations and increased cleaning efficacy.
Custom-built for your application, Valutek pre-saturated wipers are consistent and hassle-free solutions.
To further your knowledge of cleanroom wipes, we suggest exploring the following materials: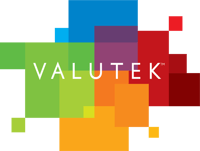 Valutek is one of the first and few manufacturers to offer a full product portfolio of best-in-class cleanroom products. Since 1988, our controlled environment consumables are helping leading organizations operate their cleanrooms in a consistently stable state.
Related Articles
Selecting the most appropriate cleanroom glove can seem complicated. If you are trying to match...